Do You Feel Numb, Overwhelmed, Or Hopeless?
Do you wish you could just stop feeling numb and leave the pain and suffering behind? Depression therapy can help you find hope, healing, and happiness.
It might seem like you're going through the motions while barely keeping up with daily responsibilities. You can feel a growing sense of overwhelm, defeat, and general unhappiness that has you physically exhausted and emotionally withdrawn.
Has this negative outlook on the future perhaps even reached a point where you feel utterly helpless and hopeless, believing that nothing will ever change?
You may be unhappy in your relationships or with your job and struggle to feel like you're really giving your best at work and at home. Or perhaps you're beating yourself up about not being where you would like to be in life.
Making things more difficult, the constant stream of worries and self-doubt may have left you unmotivated and second-guessing every choice you make. And as a result of these negative self-beliefs, you may have become more sensitive to feedback, easily feeling misunderstood, hurt, and irritable.
In an effort to avoid conflict and regain a sense of control, you may have withdrawn from family and friends. Or maybe you turned to drugs, alcohol, gambling, or other vices to try coping with your depression. Yet, that has only left you feeling more isolated, or even guilty.
We offer Depression therapy at our Woodbury and Bloomington locations as well as online.
Depression can look and feel like
Persistent sad or "empty" feelings
Loss of interest in activities and hobbies once enjoyed
Feelings of hopelessness or pessimism
Feelings of guilt, worthlessness, or helplessness
Irritability, restlessness
Fatigue and decreased energy
Difficulty concentrating
Trouble sleeping
Overeating or appetite loss
Thoughts of suicide, suicide attempts
We All Seek To Move Away From Pain And Suffering
Depression is an experience shared by people of all cultures, statuses, and genders. There's so much going on in our world that can contribute to feelings of helplessness and hopelessness, and we all feel sad, overwhelmed, or defeated at times. The reality is that these feelings are universal and natural.
For some, depression has surfaced due to a health issue or hormonal changes, such as those dealing with postpartum depression. Others have noticed signs of depression after a traumatic event, or they have become aware of issues over the course of several years as part of the persistent effects of childhood trauma. And still others may struggle with a puzzling array of symptoms that leaves them wondering if they're dealing with depression or anxiety or something else entirely.
Sadly, our family and friends don't always understand how we're feeling or how they can support us during these difficult times. They may have preconceived ideas about what depression looks like or how to deal with it.
So we get well-intentioned but unhelpful messages from our loved ones, such as to "get over it" or "just think positive." And on top of it all, we see our friends and family sharing their happiness and achievements on social media, leaving us feeling even more alone in our struggles.
Maybe you have tried your best to ignore the issue over the years because you simply don't have the energy to deal with it. However, avoidance doesn't help; it usually just prolongs the problem and contributes to a cycle of depression, loneliness, isolation, lack of motivation, and suffering.
Thankfully, professional depression treatment can help you break that cycle, free yourself from depression, and take control of your life again.
Depression Treatment Can Help You Feel Confident And Empowered
At Changes Counseling and Wellness Center, we take the time to get to know you and understand your specific situation so we can help guide your therapeutic journey in the right direction.
Our approach is strengths-based: while we acknowledge the problems you are experiencing, our focus is on shining the light on the strengths and resilience you already possess. And our approach during each session depends on your unique goals and needs—whether that means teaching you new coping skills or diving into the details of certain events or triggers in your life that are contributing to your experience with depression. For example, if we identify that a past trauma is affecting you, we can address that as well as your depression symptoms.
Treatment sessions with us will allow you to express yourself freely and with the support you need to feel truly heard and acknowledged. With our guidance, you can develop self-compassion as you begin to understand yourself—not just your thoughts, behaviors and emotions, but also your nervous system and the physiology of chronic stress, overwhelm, and trauma that can contribute to feelings of depression.
We view working together as a partnership. That means we will provide guidance and make recommendations, while collaborating with you to achieve your goals. Ultimately, our trained providers can help you learn skills and gain the confidence to trust yourself and know what's right for you.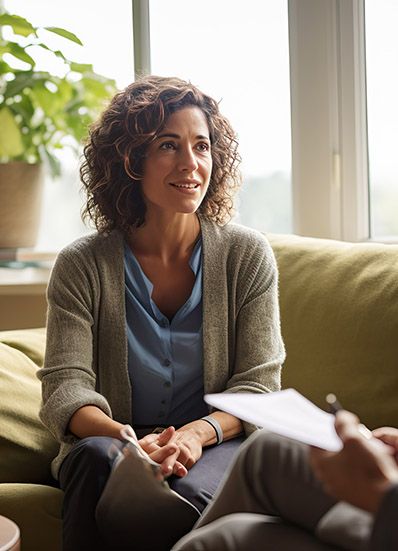 What Do Depression Therapy Sessions Look Like?
During our first session, our focus is on getting to know you. We'll explore your history, where you're at right now, and what your interests and needs are. This helps us to get a picture of what approaches and therapy methods would benefit you the most.
And if symptoms of depression have taken over and you feel out of control, counseling sessions can focus more on symptom management at first.
For ongoing sessions, our goal is to help you reconnect with yourself, develop internal knowledge and instincts, and foster greater empowerment so you can recognize and heal the issues at the core of your depression. This calls for identifying these deep-seated concerns, exploring links to unresolved hurts, and learning and practicing new skills you can use to resolve issues that arise in your daily life.
To facilitate your healing journey, we will teach you coping techniques, such as mindfulness, grounding, and breathing exercises that you can practice both in sessions and on your own.
Ultimately, depression therapy provides the support of a professional who really understands what you are going through and can give you the know-how and tools to find healing and growth. Instead of feeling trapped in place by depression, you can learn concrete steps you can take to feel truly empowered.
Even if you have tried other things before that didn't work, the fact that you're reading this page shows that part of you is holding out hope that your situation could change. We know it can!
Maybe you're considering depression treatment, but you're wondering…
I've felt this way for so long, can depression counseling really help?
When a situation has gone on for a long time, you may start to feel like nothing can possibly change. But we have seen in our practice that there's always hope and that you can feel better, no matter how long you've felt down. A good, trusting relationship with one of our highly trained and experienced therapists can make all the difference in treating depression.
I don't have the motivation/energy/hope to start therapy when I'm feeling so down.
We understand how difficult it can be to find the motivation and energy to participate in therapy when you're depressed. But if you can bring yourself to take the first step, we truly believe your situation can change. Depression therapy will give you a safe space to express yourself and the support and confidence you need to see that meaningful, lasting change is possible.
I'm worried revisiting things will make me feel even worse.
As therapists, we're aware of those concerns and trained to help you mediate those feelings. Our goal is to pace your therapeutic journey according to your needs so that you can be an active participant—learning new resources and skills you can use to discover your strengths and alleviate problems—without feeling overwhelmed.
You Can Experience Hope, Confidence, And Empowerment
If you're ready to start your healing journey to experience more hope, feel more confidence and peace, please contact us.
Schedule An Appointment

Depression is a treatable condition.  Our experienced providers can help change your situation. If you are ready to learn more, let's schedule a free 30-minute consultation.