Kim Poitra – Therapist
MSW, LICSW, SEP
Thanks for stopping by! I'm a master's level clinical social worker and I love what I do! I received my master's degree from Augsburg College and have been licensed since 2008. Although most of my work has been in outpatient therapy settings, I have also worked for an intensive treatment program for individuals with co-occurring disorders.
Throughout my career I have worked with children, adolescents and adults, with extensive experience working with trauma, including developmental trauma. I also work with anxiety, depression, women in recovery, self-esteem issues, chronic stress, life changes and feeling stuck.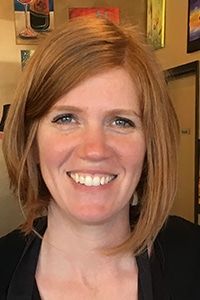 I value diversity and inclusion- I work to better understand everyone's individual experience while also understanding and validating the social, historical, and political realities that impact one's experience. I work to better understand my role and privilege. My experience working with and for indigenous communities for more than 13 years has contributed to the person and therapist I am.
I am honored to have learned, listened, cared for and been cared by many in this community. I still have more to learn and try my best to approach the diversity of identities with a gentle openness and curiosity while acknowledging my privilege.
I believe we all have what we need to heal within ourselves. I also believe that it's not always clear how to heal painful wounds on your own. Over the years I've learned different ways to support healing and growth. My two main influences to healing are Somatic Experiencing and Internal Family Systems, and they work well together. I completed a 3 year Somatic Experiencing certificate program which specifically looks at what happens in the body and nervous system when there is a traumatic event(s) or chronic stress.
This made so much sense to me, as many of us know there are some things that feel alive in our bodies even though we may have talked about and processed these experiences many times. Maybe you feel a lot in your body or maybe you feel very little in your body, SE has ways of understanding this and addressing the symptoms that are getting in the way.
Internal Family Systems is a compassionate, non-pathologizing approach to understanding ourselves and healing the parts who have burdens and those who work to protect vulnerabilities. I've completed Level I and II training in IFS. I am also trained in Brainspotting, Phase I. If you are interested in scheduling an appointment, please send me a message on the contact us page.
All of you is welcome in therapy- all of your parts and all of your identities.